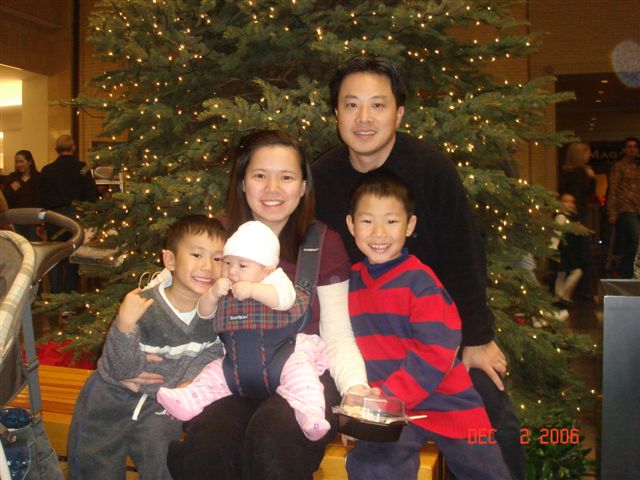 It is Christmas day today. We came back from our mini San Antonio trip last night. It wasn't a great trip at all, with all the heavy rain and cold weather. We were hoping to take the kids on the boat ride at river walk but we didn't even drive into downtown area.

Daddy got back from his long 2 week business trip on Friday. Me and 2 boys went to pick him up from the airport. We were happy to see daddy. It felt like a very long time since we last saw daddy.


Saturday morning came and after we quickly packed we started driving to San Marcos. We stopped at Austin for lunch, we decided to go to central market to buy lunch, and we could buy some other stuff, like fruits. The goat cheese pizza was weird, not very good as I had hoped, but at least it was healthier than fast foods.

 It was pouring rain when we got to the outlet mall, but we managed to shop a little. We met the Lo's family there after we shopped. Daddy bought a pair of Timberland shoes, I bought a down jacket and Daddy bought toy boats for the boys. We didn't get to shop for as long we would like. We  then went to Outback Steakhouse for dinner. The food was not bad, although the steak was overcooked.. We then headed to our hotel. I didn't get the directions very clearly so we got lost a little... and we were all getting very impatient and tired... finally we got to the Courtyard Marriot inn... it was clean and nice.

On the Lord's day morning we went to the meeting in church in San Antonio. It is always nice to blend with the saints. After the meeting we went to a Chinese restaurant to eat, it was quite delicious. Acacia had been very good and letting mommy to eat. After lunch, we decided to head home since it was still cold and raining. We didn't even stop at the Outlet mall, feeling tired and wanting to go home.

So that was our not-very-exciting mini trip. Yesterday 12/24 was Acacia's 5th month birthday, Acacia is already 5 months old. She is becoming a very cute little girl. I can't wait to see her grow up more and more in the days to come.

Merry Xmas!!